The Library Blog
Welcome to the Library Blog! My name is Mrs. Elizabeth Fanning and I am Waldorf's School Librarian and Media Specialist. You can also email me at fanninge@waldorfgarden.org. Thank you!
Hello my fellow readers!!
It was so wonderful seeing you all on Monday. I look forward to our next meeting and hearing what all of you have to say.
Monday we talked about Sudan, Africa and how in the 1980's many of their villages were attacked for oil, or other resources. Many of these boys, were separated from their families and had to find their own way to safety.
We then read the first few pages of the novel and discovered some very interesting things about the Sudanese culture both in the 80's and in the 2000's. We learned that Nya (2008) walks back and forth to the watering hole twice a day to get water for her family. This takes all day and is her only task. When we meet Salva (1985), he is sitting in the classroom describing his surroundings before the attack. This brought up an interesting question. When does Nya go to school if she is walking back and forth from the watering hole each day? Our group had a wonderful discussion about different cultures and the roles of boys and girls in those cultures, as well as the changes that have taken place in our own culture since the times when women often stopped going to school at a certain age (or never went) in order to learn how to care for the home. I was very impressed with the thoughts of our group, since all I did was ask when Nya went to school, and the rest was all your own thoughts.
I am looking forward to hearing what you have to say next time we see each other.
Remember, there is no book club next week, as I will be away.
For our next meeting, please read up to page 50. DO NOT READ AHEAD! I know you are could all finish this book in two weeks, but it is important that we stay together in the reading and get to talk about what happens. Stopping in the right place is just as much part of the assignment as reading it.
See you all on the Monday September 29th!!

Welcome Back Everyone!!
I hope you had a wonderful summer! Now that school has started, so will our Fall Book Club. All students from 5th grades up, are invited to participate. I am so excited to see some of my old friends, and to have some new ones join us as well!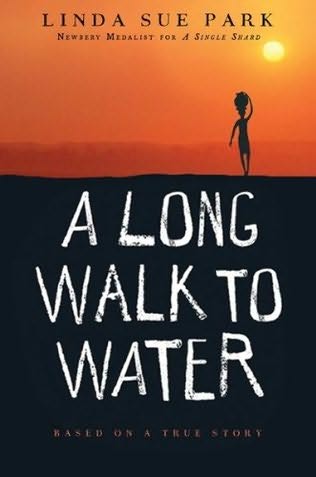 Our first book will be "A Long Walk For Water" By Linda Sue Park. In this book we will follow the adventures of two children living in the same place during two different times. The first is a little boy living in Sudan in 1985. The Second is a little girl from a neighboring tribe in 2008. It's a wonderful story about the the resilience of these young people as they triumph over the trials of African living and use their experiences to give back to their community.
Sign ups will begin next week.
http://www.waldorfgarden.org/clubs
Our first meeting will take place on September 15th in the Miller Library.
See you then!!!
Mrs. Fanning

NoodleTools Companion is a great new app you can download to your iPhone or Android device for help with your MLA citations.
Download the app today (see image to the right)!
Dear Faculty,
In honor of our conversations during Faculty Development Day, I ordered some of the books mentioned by our guest speaker, Eddie Moore.
The new titles include:
The White Racial Frame: By Joe Faegin
The Debt: By Randall Robinson
The Color of our Future: By Farai Chideya
Mixed: By Andrew Garrod
Post Traumatic Slave Syndrome: By Joy Degruy
Waking up White: Debby Irving

Hello everyone!
Just reminder that we WILL be having book club this coming Monday.
Please read up to the Chapter entitled "Los Aguacates: Avocados"
It's been a while since we met and I am looking forward to hearing what you all have to say!
See you soon,
Mrs. Fanning

Hello Everyone!
Thank you for a wonderful first meeting!
For next time please read up to page 80.
Bring a list of questions or topics you want to talk about when we are together again.
See you Monday, April 28th!
~Mrs. Fanning~

Hello Book Clubbers!
I have finally selected our book for this session.
We will be reading "Esperanza Rising" By Pam Munoz Ryan
This is an inspiring novel about a wealthy girl and her family in Mexico.  When tragedy strikes, they are thrust into the trials of The Great Depression, changing everything they once knew about themselves and their world.
I look forward to exploring this book with you.
See you Monday!
Mrs. Fanning

Calling all Readers
5th Grade and up!!
We are about to begin our Final Book Club session for the year!
Please sign up with Kathy Bossuk to participate in the Spring Session.
Book Club will begin March 31st.
In our first meeting we will select our book so don't miss it! 
Your input is important to the group!
See you then!
~Mrs. Fanning~

Hello my fellow Book Clubbers!
We only have 2 Mondays left in our Winter Session.  Next Monday there will be no book club because of parent teacher conferences.  So the next time I see you will be March 17th.  Please finish the book.  We are going to be working on our personal interviews and exploring what we want to be when we grow up.  Such a wonderful thing that we get to choose instead of picking our careers out of a HAT!!!
Thank you for all of your energy this session.  Thanks to you your enthusiasm we were actually able to read TWO BOOKS!!!
I am looking forward to the Spring Session which will begin March 24th!
See you next time.
~Mrs. Fanning~

Hello my fellow book clubbers!
Thank you for a very lively and wonderful reading of "Out Of My Mind".  I enjoyed listening to all of your thoughts.
Our next book for this session will be, "City of Ember" by Jeanne DuPrau.  After 2 very serious novels of children living with disabilities, it's time for a nice breather!  This is a wonderful story of a secret city shrouded in darkness.  They have no sun, and no moon, and are entirely dependent on electricity.  However, their generator is old, and beginning to break down.  There are frequent blackouts.  They need to figure out a way to save the city, or escape before the lights go out forever. 
Next week will be February break so we will not meet. Our next Book Club will be
February 24th.  Please read Chapters 1-7 stop before Chapter 8.

Choose groups to clone to: